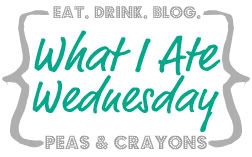 I decided to do a "WIAW" post.
If you've ever wondered what I eat on a daily basis, be curious no more: (This is from last week and, for the record, I didn't wake up until 12... woops.)
Breakfast:
Banana soft serve- 2 small bananas + 1 tbsp wheat germ + 1 scoop protein powder blended
1 coconut oil Reese's (recipe below)
Snack 1:
Peanut butter cookie (recipe soon)
Lunch:
Salad- Lettuce, 1/2 cup pinto beans, 1/2 cup morningstar farms meat crumbles, 1/4 cup shredded cheese, ranch dressing
Snack 2:
Cup of
Chai Latte
1 (unpictured) Reese's cup
Dinner:
Tortilla wrap- 1/2 sweet potato, lettuce, 1/2 cup pinto beans, 1/4 cup morningstar meat crumbles
Green beans
Snack 3:
1 honey-on-the-bottom greek yogurt
Homemade granola (recipe also coming soon)
So, there ya have it. Now, here's the Reese's cup recipe. I like them so much better than the original ones. They don't taste processed and maybe knowing that they're good for me helps the taste, too.
Healthy Coconut Oil Reese's Peanut Butter Cups
Ingredients:
Chocolate:
1/2 cup cocoa powder
1/4 cup melted coconut oil
1/4 cup honey
Peanut butter:
1/2 cup peanut butter
2 tablespoons honey
1 teaspoon vanilla
Directions:
1. Mix chocolate ingredients until well blended and pour half of the mixture into a mini muffin tin.
2. Let cool in freezer for 5 minutes.
3. Add about a teaspoon of the peanut butter mixture to each of the hardened chocolate.
4. Evenly distribute and pour the rest of the chocolate mixture onto the top of each dollop of peanut butter.
5. Refrigerate until hardened and enjoy. Keep refrigerated.