Valentine's Day: a day where
everyone
can make an excuse to eat chocolate. Am I right?
Yes.
So, please, make your chocolate excuse be these brownies.
Pretzel-Crusted Caramel Chocolate Chip Brownies
Crust:
4 cups whole pretzels
1 stick butter, softened
¼ cup powdered sugar
1/8 tsp baking powder
Brownies:
Use your favorite recipe. I used
these
, but I only used 1 1/2 cups of sugar instead of 2 1/4 and I also used 3/4 cups butter instead of 1 cup.
Caramel Filling:
1 can 14 oz sweetened condensed milk
1 cup caramel pieces
1/2 cup chocolate chips
1/2 cup white chocolate chips
Directions:
Preheat oven to 350.
Crush up pretzels in food processor until finely ground.
Mix with butter, powdered sugar, and baking powder.
Press into bottom of 9x13 inch pan.
Bake for 5 minutes. (While preparing brownies.)
Prepare your brownie recipe of choice.
Pull crust from oven and pour brownie batter over the crust.
Layer caramel filling on top. Bake for 30-45 minutes, until an inserted fork comes out clean.
P.S. My gift from Denby, to me, to you: You can, for a limited time, get exclusive Valentine's Day deals from Denby by clicking here: Denby USA. Happy Valentine's Day!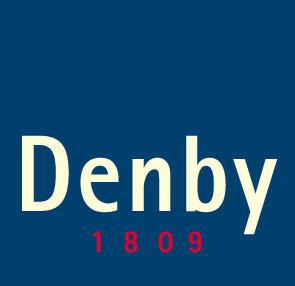 Setting the Mood with Denby
With Valentine's Day heartbeats away, it's time to start planning for the big night. Before you make a reservation, though, Denby, producers of pottery for over 200 years, offers the following tips to help create a truly special dining experience in the privacy of your home.
Back to Basics: Using a tablecloth is a great way to add an instant splash of color, which in turn provides a beautiful backdrop for your dinnerware. For Valentine's Day, try using a solid red tablecloth as your base and layer a sheer silver or gold tablecloth on top to create visual interest. If you prefer a clean look where your dinnerware is the main attraction, follow the above steps, but swap out the red tablecloth for white linen.
The Right Spot: Just like life, setting the table comes with many rules, but achieving restaurant-quality results is easier than you might think.

Dinnerware: Place the dinner plate directly in front of each seat, about two inches from the table's edge. Place salad and bread plates to the left, and if you're serving soup, place the bowl directly on top of the dinner plate. Remember that with each course you should remove the used dinnerware. Also, if you're having seconds, serve them on a clean plate. Dinnerware is meant to be functional, but by giving a fresh plate, it's also frames your meal beautifully.
Silverware: This is where most people become completely lost. Start by placing the forks to the left side of the plate with the smaller salad fork on the outside. Then place the knives and spoons to the right, making sure that the cutting edge of the knife is facing the plate. Butter knives should go directly on the bread plate. For dessert silverware, lay the spoon about a half inch above the dinner plate with the mouthpiece facing left and the fork above the spoon, with the mouthpiece facing right. If you're being served and not sure which piece to grab first, a general rule of thumb is to start from the outside and work your way in.
Glassware: Traditionally, the water glass should go to the right, directly above the knife. If you're drinking wine, place the glasses, one for each type of wine, directly to the right of the water glasses. To complete your tablescape, finish by laying cloth napkins, never paper, on top of the dinner plates.

Hide Love Notes: It's not enough to show someone you care; you should also use every opportunity to tell them. Try incorporating little messages into your tablescape by hiding them under plates and glasses so that the messages are revealed when your loved one takes a drink or begins working on their next course. It's a fun and flirty, not to mention inexpensive way to convey your emotions while building the anticipation.
Light the Night: Candles are one of the easiest and quickest ways to set the mood. For best results, strategically place clusters of candles at varying heights around the room, creating little areas of ambient light. Just remember to use unscented candles. Not only are they less expensive, but they won't overpower the space with fragrance that can take the focus away from the aroma of your wonderful meal.
Denby USA Limited and The Denby Pottery Company (UK) are manufacturers of high quality stoneware. Hand-made glassware, imported porcelain and bone china, and cookware are also part of the company's merchandise offerings.